English
Click to download: National Curriculum
English at Willoughby Primary School is taught discretely in English lessons, guided reading and phonics and spelling lessons. English skills are also further developed within the wider curriculum.
Through being taught to write and speak fluently, pupils learn to communicate their ideas and emotions to others; through their reading and listening, others can communicate with them. Through reading in particular, pupils have a chance to develop culturally. Literature, especially, plays a key role in such development hence through our reading scheme and key texts, rich vocabulary is introduced.
Spellings
Click here to read about spelling at Willoughby School and to download your child's spellings list for the year.
Speaking and Listening
Throughout the school, opportunities to develop pupil's spoken language in a range of contexts underpins the development of reading and writing. Pupils are encouraged to speak clearly, confidently and with expression in order to communicate their ideas and feelings.
Pupils develop their ability to explain their understanding of books and other reading, and to prepare their ideas before they write. They are encouraged to discuss their ideas in order to make sense of their learning.
The importance of early reading, our approach to teaching phonics
Phonics Overview | Phonics Curriculum Statement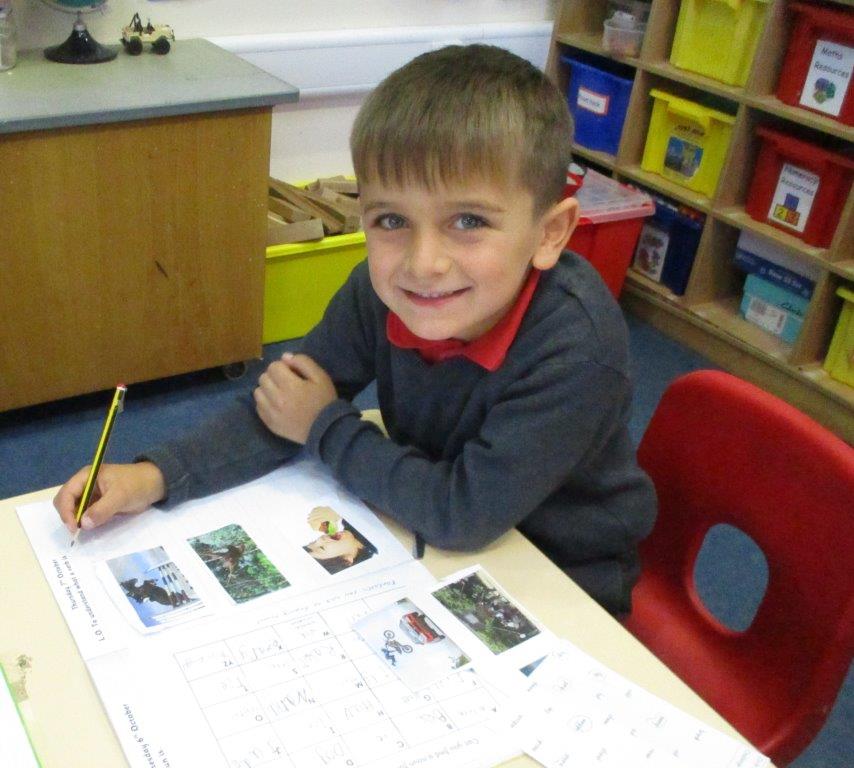 At Willoughby, phonics is taught through the systematic acquisition of sounds using the phonics programme, Jolly Phonics.
Phonics is the method of teaching children to read by linking sounds (phonemes) and their symbols (graphemes).
Children are introduced to 'single sounds' such as /p/, /o/ and practise recognising them, writing them and 'blending' them. 'Blending' is the ability to combine sounds together in order to create a word. Teaching staff ensure all phonemes are pronounced purely.
Phonics lessons are taught throughout Reception, Year 1 when children are exposed to more complex phonemes such as 'ay' in 'stay' and 'ee' in 'see'. Pupils are taught that these sounds are called 'digraphs' because 'two letters represent one sound', or 'trigraphs' when 'three letters make one sound' such as /air/ in 'fair'.
The 'Phonics Screening Check' is taken individually by all children in Year 1 and is designed to give feedback to teachers and parents on how each child is progressing in Phonics. Pupils are asked to read 20 real words and 20 pseudo words, known to the children as 'nonsense words', in order to ensure children are decoding the words instead of memorising or guessing.
During early reading children should become confident readers, having the ability to:
– decode a word
– comprehend the meaning of each word they read
Both of these are needed in order to make sufficient progress in reading.
All children have explicit phonics lessons throughout their first two years at school, starting from Reception in order to ensure they have enough time to become secure with their decoding skills. Our reading scheme supports phonics teaching. Books are sent home which corresponds to the sound/phase that is currently being learnt.
Comprehension
Reading overview | Reading curriculum statement
Comprehension skills are developed in individual (EY) and guided (KS1 and KS2) reading sessions through pupils' experience of high-quality discussion with the teacher, as well as from reading and discussing a range of stories, poems and non-fiction within English lessons. Within guided reading and English, children read widely a range of fiction and non-fiction texts to develop their knowledge of themselves and the world in which they live, to establish an appreciation and love of reading, and to gain knowledge across the curriculum.
For help on how to support your children with reading at home, please speak to your child's class teacher.
Writing
Writing overview | Writing curriculum statement
Writing is a fundamental key to all learning and underpins every area of our school curriculum.
The ability to understand and use language enables children to explore and interact successfully, communicate their feelings, thoughts and ideas with confidence and develop skills essential for life-long learning. We believe that every child has an equal right to a supportive and stimulating writing environment.
At Willoughby, all children are exposed to an inspiring, engaging writing curriculum, where high quality texts provide strong learning platforms for all abilities. In our English lessons we create a writing curriculum that is progressive and built on previous learning
We develop children's confidence to write for purpose, within a range of text types context and we teach and use a wide range of high-level vocabulary in writing.
Above all throughout their learning at any stage we provide an engaging platform for writing in our school, where children see writing as an enjoyable, creative activity.
Spellings
Accurate spelling is an important part of the process of learning to write at Willoughby Primary School, which begins with the Y2 spelling rules.
Click on the appropriate link for your child, for this term's spelling list.
Year 1 Autumn | Spring | Summer
Year 2 Autumn | Spring | Summer
Year 3 red group | Year 3 blue group | Year 4 | Year 5 | Year 6 red group | Year 6 blue group
The National Curriculum places great emphasis on correct spelling, and in Year 6 every child sits a spelling, grammar, and punctuation (SPaG) test. Good spelling is also a big part of the writing curriculum at school. Click here to see the National Curriculum Spelling Appendix.
Learning to spell well is really useful if we want our children to become confident writers. If they are constantly stopping to think about how words are spelled while they write, it can interrupt their thinking about important parts of writing like word choice and sentence construction. If they are confident spellers, they are also much more likely to make adventurous vocabulary choices. Obviously, there is a lot more to being a strong writer than spelling, but confidence in spelling can make a big difference. Spelling lists, based on the National Curriculum, are sent home to practice from Year 1 and the children are tested weekly.